The Blog You Have Been Waiting For
By Jereme Thomas - December 26,2013.
Posted in: News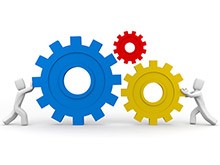 Frogmo first made its debut as a company in 2007 and over the past 6 years has grown exponentially in the number of clients and amount of services we have been able to provide. It's been a busy and productive 6 years and we have always strived to put our clients and their needs as a top priority. Which is why, after several years in the making, the official Frogmo blog is finally ready to launch.
As a provider of SEO and web development services, the Frogmo team understands how important it is to utilize social media and provide personal stories, such as blog posts, that our visitors and potential customers can relate to. The goal of our blog is to provide up-to-date and relevant information that our readers will find useful and can put into practice free of charge. Our team is constantly reading, listening, and learning the newest strategies and trends in web development so that we can provide the best advice and services possible to our clients.
We hope by reading this blog you too will gain some insight into the world of SEO and web development and also get to know our team and our business a little bit better. Happy reading and welcome to the blog!
---
How Frogmo was Born