Why I Recommend a Content Management System
By Jereme Thomas - July 30,2014.
Posted in: Tips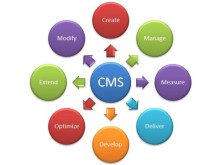 Content Management Systems (or CMS for short) are computer programs which allow creating, editing, and publishing content through a centralized user interface. Usually this user interface is designed to be very user friendly and intuitive. There a many types of CMSs available. From custom proprietary applications to open source software, the first CMSs were developed in the late 1990s and their main goal was to simplify the task of updating and maintaining website content. Before CMSs, in order to update or add content to a website you needed an understanding of several different web technologies like HTML and CSS and possibly backend programming languages like Java or NET. For the average content writer or company employee this was a high hurdle and personally I would rather have my employees and clients focusing on writing great content and leave the technical jargon to the IT geeks like myself.
CMSs changed all of this. Once the CMS was setup and configured non-technical users could log into the system to edit, create, and publish new content using WYSIWYG editors and forms like they were used to seeing in other applications like Microsoft Word. All users needed to do was write their article or blog post and then hit a few buttons and bam it was published out on the web for everybody to read.
The ability to edit, create, and publish their own content to their website leads to additional cost saving for the client. No longer does the client have to contact their IT staff or firm to make changes to their website. They can handle it themselves, which saves time and money.
Another advantage a CMS offers is the ability to reuse existing code and plug-ins. This is especially true for open source CMSs which have a large base of end-users and developers. These popular CMSs have thousands of existing plug-ins available which, as a developer, I can leverage to get common functionality up and running quickly.
One of the disadvantages of a CMS is there can be additional upfront cost associated with setting up and configuring the system. If the CMS is not open source there could be additional licensing costs as well. Usually these additional upfront costs are quickly recouped by the reduction, or even elimination, of ongoing maintenance and update charges in the future. Another disadvantage is a CMS can slow down a website and cause extra "bloat" if it is not setup correctly. This problem can usually be avoided. Another item to keep in mind when considering a CMS is there can be a learning curve to using the CMS. This learning curve is often short and not an issue for clients.
Even with the previous mentioned disadvantages I highly recommend a CMS for your website. The advantages far outweigh the disadvantages. Also keep in mind that any website design can have a CMS built on the backend. So if you have a design you really like and would like to retain but need a way to make edits and updates to your site on your own, then consider a CMS. I have a feeling it will making managing your website easier and save you money in the long run.
Have questions or comments about CMSs? Need one setup for your site? Comment below or send me an email.
---
What is Gravatar and Why You Should Care